Prof (Dr.) R. D. Dwivedi
Registrar, Glocal University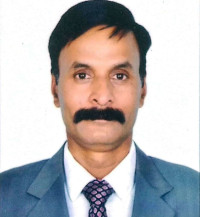 M.Com, M.B.A, PhD

Born on May 21, 1962 Dr. N.K Gupta is M. Com, M.B.A & Ph.D. An Alumnus of Kurukshetra University, Kurukshetra, after passing his M. Com in 1983 he started his career with I.B College, Panipat affilated to Kurukshetra University.
Dr. Gupta was awarded Ph.D Degree in 1990 from Rohilkhand University, Bareilly. Now he has blend of industrial and academic experience of more than 38 years in his credit out of which 30 years in academics.
He has always been responsible capacities throughout his career such as Vice Chancellor of two Universities, Registrar of two Universities, Director of various Colleges of Management affiliated to GGSIPU.
He has been instrumental in organizing and attending a good number of National and International seminars, Conferences and workshops.
Dr. Gupta has authored one book titled Financial and Investment Decisions.
He has been recognized for his efforts and achievements time and again by honors and kudos to mention, he has been awarded "Man of the Year Award" by American Institute of Bibliography.
Glocal University is all set to get benefit of his academic and administration experience to achieve new benefits.
E-Mail : registrar@theglocaluniversity.in