Prof. (Dr.) Atiqur Rahman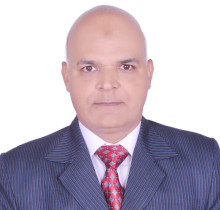 Prof. (Dr.) Atiqur Rahman
BUMS (Aligarh Muslim University, Aligarh)

Prof. (Dr.) Atiqur Rahman has joined Glocal College of Unani Medical Science & Research Center as Professor in 1st Jan. 2019. He took the responsibility of Principal-ship on 07/07/2020. He has more than 20 years of academic as well as clinical experience. He has been engaged in administration for nearly 2 Yrs as Vice-Principal at Dr Abdul Ali Tibbiyah College, Malihabad, Lucknow.
Prof. (Dr.) Atiqur Rahman is alumnus of prestigious Unani Medical College viz. Ajmal Khan Tibbiyah College, AMU, Aligarh. He graduated in Unani Medicine in the year 1999, was appointed Lecturer/ Assistant Professor and promoted to post of Associate Professor, Professor and Head of Department in various Unani Colleges
Prof. (Dr.) Atiqur Rahman has marvellous clinical knowledge especially in NICU, ICU & Emergency management. He has been remained the chapter writer of a magazine namely Al Islam published from Lucknow monthly. He used to write Tib related issues in that magazine. He has participated in National Seminars. He attended National & International Webinars. He also has been expert examiner.
Prof. (Dr.) Atiqur Rahman has gone under several training and re-orientation programmes. His entire work concerns with Unani Medicine. He is himself a diligent personality of Unani Medicine. He has some special treatment of various diseases like warts, callosities, etc.
E-Mail : principal@glocalunanicollege.in