Dr. Abdul Malik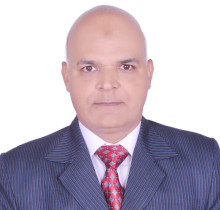 Prof. (Dr). Abdul Malik
B.Sc., B.Ed., B.U.M.S., M.A.(Edu), M.A.(Eng)

Prof. Dr. Abdul Malik has joined Glocal College of Unani Medical Science & Research Center as Professor & Principal in 18-12-2020. He has been engaged in administration, teaching & research for nearly 17 Yrs.
Prof. (Dr). Abdul Malik is alumnus of prestigious Unani Medical College. He graduated in Unani Medicine in the years 1985, was appointed Lecturer/ Assistant Professor and promoted to post of Associate Professor, Professor and Head of Department in the Unani College.
Dr. Khan Abdul Hai has published two research papers in reputed National Journals with title History of Medicine and Alcohol Dependence. He has also worked as examiner (Hygiene), paper setter (Kulliyat) in Rajasthan Ayurved University Jodhpur and in Bengal University during 2005-2008. He has delivered several guest lectures in Unani Medical College. His entire work concerns with Unani Medicine. He is himself a diligent personality of Unani Medicine.
E-Mail : principal@glocalunanicollege.in